A hair fairy tale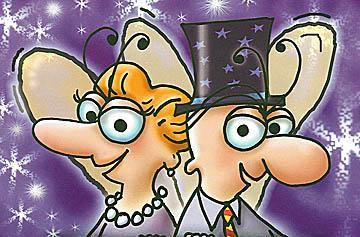 Illustration from book cover by Wend Boomhower
By Laura Hawkins | Managing editor
You've undoubtedly heard of the Tooth Fairy. Yet for the Martin household, the Hair Fairy has been just as important a visitor.
"Hair Fairies come while you're sleeping at night. They gather up hair so it's gone from your sight. Then leave a surprise that's sure to delight. Their mission complete, they continue their flight."


Martin
So reads "H is for Hair Fairy," written by Cicero resident Kim Martin and illustrated by Wend Boomhower of Noblesville — a colorful A-to-Z book dedicated to children, and children at heart, who are battling cancer.
It's a battle Martin knows all too well.
Her son Nolan first was diagnosed with cancer at the age of 22 months. A series of experimental and difficult treatments rendered him healthy after two years, but at the age of 7, the cancer had returned. This time it wasn't going away.
Comforting her son was not easy.
The children's cancer-related books Martin found at the library offered nothing more than information, Martin recalled. But information wasn't going to lift Nolan's spirits.
It was in a magazine that Martin first found the answer. She was flipping through the pages when she found a letter written by a cancer survivor. Her husband, the woman wrote, did the sweetest thing while she was undergoing cancer treatments. The day she lost all of her hair, he hid some coins under her pillow at night — a surprise from the Hair Fairy.
"She cried it just meant so much to her," Martin recalled. "It stuck with me; it was just the neatest thing."
Martin became the Hair Fairy for Nolan, who died in October 1993.
A little while later, Martin went back to school to become an elementary education teacher. During one of her classes, she was instructed to write a book.
The first draft of "H is for Hair Fairy" was written.
"I wrote the book with Nolan in mind," Martin said. "I thought about him the entire time. I thought about our experiences together and wrote it specifically for a 7-year-old child.
"I knew that he would love it."
In its final version today, "H is for Hair Fairy" takes readers on an A-through-Z journey of cancer. Cuddly animals often are the main characters, demonstrating everything from Courage to Fear, MRIs to Remission. On each page, Mr. and Mrs. Hair Fairy add quips like, "By the way, Cutie, your illness isn't punishment for being bad. You did nothing wrong. We love you!"
The book is intended to be a positive twist on a terrible situation, Martin explained. And according to the Candlelighters Childhood Cancer Foundation Web site, www.candlelighters.org, that situation is experienced by thousands of children each year. The site notes that each day 46 children are diagnosed with cancer, which would work out to 16,790 children annually.
Martin didn't know how positive an impact something as simple as the Hair Fairy could make, however, until her only daughter, Andrea, was diagnosed with cancer 10 years after Nolan had died.
"I felt like a bear with my paw caught in a trap and could not get out," Martin recalled. "I did not want to go through this again with another one of my children."
As a teenager, the hair loss was a little more traumatic for Andrea, he mother recalled.
"On her 16th birthday she lost all of her hair," Martin said. "She sat there and just pulled out here hair in big clumps and threw it in the trash that day.
"She looked in the mirror and cried. It's so hard to watch a child do that."
That night the Hair Fairy visited Andrea, leaving a generous $100 bill. The next morning, Martin said her daughter was thrilled.
"She was all smiles, it just cheered her up so much," Martin said. "She never looked back after that; I was so pleased that it made a difference to her."
[...]
She was Martin's inspiration to finally publish her book.
But there still were obstacles. No publishing house would take on the project.
"As I struggled to find out what to do, I went to bed one night just really thinking, 'what am I going to do now?'" Martin recalled.
The next morning she woke from a dream "that made it clear to me that if I would pursue this all non-profit, everything I would need would be provided."
Everything was.
Martin subsequently met Wend Boomhower.
"Kim and I met through church and obviously warmed to each other," Boomhower said, "and gradually I heard about Kim's project that she was doing."
When Martin started working on the Hair Fairy as a nonprofit project, Boomhower, a graphic designer, offered to get involved.
"My heart went out to her, and I just wanted to be able to help in some way," she said.
While the pair worked on the pictures, Martin sent e-mails to families and friends to let them know she was going to self publish the book. They immediately responded with donations to help her get started. Martin also met a couple of lawyers who offered their services at no charge.
She began printing locally in December, and this month she signed up with an online publisher, www.trafford.com, where her book can be purchased for $17.50.
She knows it's a lot of money for a paperback book, but the money will be used to purchase books for hospitals or those who need it, or it will be donated to cancer groups that also help bring a smile to children's faces.
Currently, Martin is in the process of legally establishing a nonprofit organization, the Hair Fairy Project.
According to www.hairfairy. org, on the day a child looses his or her hair, the Hair Fairy would leave money, a letter from the Hair Fairy, and the book under a child's or young adult's pillow during chemotherapy treatments. It would be administered through child life specialists at children's hospitals, volunteers or pediatric oncology offices.
While it's not to that point yet, the Hair Fairy Project slowly is taking flight.
Last month, for example, the Scrapbook Corner in Noblesville held a fundraiser for the organization. It raised $319, which Martin used to purchase books for Riley Children's Hospital.
There have been others, too, who have purchased books to donate to hospitals and cancer patients nationwide.
Martin also has signed an agreement with Johnson and Johnson. Since all of her proceeds will go toward the nonprofit, she is given two bandages per book to include on the back cover.
Of course, the book is just the beginning.
"We've got a lot of ideas," Martin said, noting once the nonprofit is established, she and her board of directors will start looking at grants to create dolls for children with cancer, as well as Hair Fairy sacks filled with four dollars worth of interesting coins and a note from the Hair Fairy.
"I think there are a lot of organizations out there — not a ton — already raising funds for research," Martin said, "and this is something unique that I don't see out there that I can do to help people with the emotional side of it."
Know more:
Buy "H is for Hair Fairy" at www.trafford.com.
Learn more about the Hair Fairy Project at hairfairy.org.

The facts
Childhood cancer is the No. 1 disease killer of American children — more than asthma, diabetes, cystic fibrosis, AIDS and muscular dystrophy combined.
An estimated 46 children are diagnosed with cancer each day.

Sources: hairfairy.org, www.candlelighters.org.